Born in the Paris area, music appears early in Sandrine's life, first in the form of classical dance and modern jazz.
Although she likes singing since her very childhood, things became more serious when she met Fredric Wurtz (Franky Vincent) at school, he was then her music teacher.
He made her become aware of her pretty voice and a very good vocal technique, her passion for singing took its full meaning from that moment.
Sandrine joins choruses and singing groups that lead her to perform frequently on stage.
At the same time, the continuation of her studies leads her to put music on hold.
Destiny overtakes her at the end of 2001, as Franck Gerber, artistic coordinator of  the morning NRJ (the 6-9) at the time, offers her the opportunity to work with the show's team on the recordings diffused by the radio.
After this experience, that she describes as « very fun, very rich, and very positive », she decides to join a school for singing to learn « the profession » : theatre, scene expression, voice techniques, etc…
From time to time, she lends her voice to different projects, in different recording studios.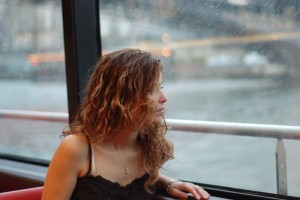 On the way that leads to success, she crosses paths with Jean Baptiste Farran, Laurent Marimbert (Jenifer, Nolwenn Leroy, Daniel Darc…) and Laurent Manganas (Benjamin Biolay, Keren Ann…), with whom she collaborates on her first album « en équilibre », colored with jazz variety.
At her side, sandrine will have the opportunity to have talented musicians such as Loïc Pontieux, Laurent Vernerey and Emmanuel Vergeade.
She will also have the opportunity to work with talented authors such as Tonie Behar, Pascale Baerhel, Corinne Ailleret, Philippe Hébrard (Florent Pagny), Phillipe Goyon and Christine Lidon (les Native).
The finely chiseled compositions and arrangements of Laurent Marimbert combined with the heavenly voice of Sandrine gives this first album a subtle elegance that hints to artists like Stacey Kent, Katie Melua, Lisa Ekdahl or Norah Jones…
She then begins a series of concerts, that allow her to express the full measure of her talent, in Parisian show rooms such as L'Entrepôt, Le Réservoir, L'Opus Café, l'OPA , etc… but also outside Paris at Casino de Lille which appertain to Lucien Barrière group where she performs songs (in french) from her repertoire and also remakes, with much sensibility, a few great bossa nova standards from latin american music.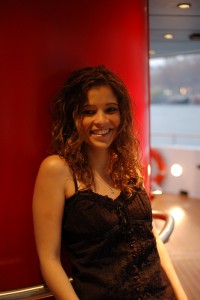 In October 2011 she is offered the opportunity to perform a duet with M.A., the lead singer of the Portuguese band « Os Delfins » at the Hotel de Ville in Paris.
She refers to this encounter as an eye opening experience on stage.
After her song tours, sandrine will start to think about the creation of a second album and will have the desire to write.
She begins the activity timidly, in small steps when she realizes that she has as much fun playing with words as she does singing them and in no Time at all, she finds herself with thirty texts; so she looks for composers to put her lyrics to music.
Atypic, utopic, atomic and unique…, it's with these words that begins one of her new songs, revealing all the aspects of her personality.
She dreams of a second album, more personal than the first.
She will bare her soul in order to transmit more emotion on stage.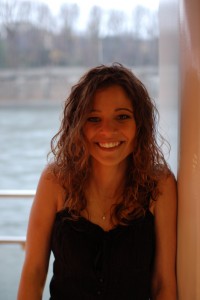 Musically, her album will still be painted with jazzy colours and pigmented with bossa nova, so making reference to her portugueses roots ; the texts will be just as touching.
As she waits to record this second opus, sandrine continues to perform on stage accompanied by her drummer Jimmy Montout and her pianist Jimmy Tillier, who roll out the red carpet for her, on which they make her voice more sublime with each concert for seven years now.
Sandrine was among the 10 finalists of the second edition of the Lusartist competition at the beginning of 2015.